Permeation resistance gloves specializing in workability.
○Chlorine-based, excellent permeation resistance and solvent resistance to aromatic solvents
○Abrasion resistance, water resistance, and excellent weather resistance
Since the thin without lining it is recommended for fine work.
Methylene chloride, in organic solvents such as toluene, has excellent resistance to moisture over-performance,but also combines chemical resistance.
Example of use
◯Experiment
◯Chemical preparation
◯Printing

Physics and chemistry
information
Ambient temperature

Normal temperature

Material

FKM

Primary use

Machine parts cleaning
Shatterproof solvent
Work in the solvent

Category classification

Chemical Permeation

Material

Chemical Permeation

type

-

size

L:300㎜

The thickness

0.3㎜

Caliber

-

Surface shape

-

color

black

Price / double

¥15,800

Packaging

bag:1Phase
Inner box:10Phase
Outer case:10Phase×5box
Product dimension
| | | | | | | |
| --- | --- | --- | --- | --- | --- | --- |
| size | A | B | C | D | E | F |
| L | 300 | 150 | 124 | 79 | 36 | 121 |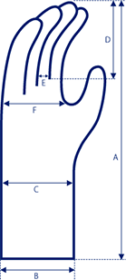 ■C is measuring the position of about 20cm from the middle finger destination.
■F shows around the palm of the hand.
■E the thickness of the fingers. Near the center of the finger.
■B, C, E, the dimensions of the F numerical was flattened to the site.
■may vary with the above dimensions for improvement.
■Unit (mm) Display
Notes on use
■Our test data is at room temperature, test data in a single solvent. By the environment and the work that you want to use, performance will vary.

■Solvents and chemicals that can be dealt with by product is different. SDS of solvents and chemicals used the (safety data sheet) to check the ingredients. To confirm whether or not to use in the service agent area swelling capacity table.

■Since the specifications for the service agent, in the case of heat-resistant to ensure subjected to a heat-resistant measures.