Very cold land for winter gloves.
It has also been used in the Antarctic.
○-60 ℃ not crack even polyurethane gloves
○Usable temperature 100 ℃-20 ℃
○It has excellent physical strength
○Excellent abrasion resistance of polyurethane unique
○It can also be used to working with oil
○Waterproof unique All Court
○With non-slip due to particulate processing
○Washable for inner out of the way completely
Using the polyurethane of the special blend. -60 ℃ even firmly become not special gloves.
It has excellent physical properties and wear resistance. It can also be used in oil. It can be used in various situations.
Fully waterproof can be used in hot water as well as cold water.
Wash can also order take out the inner.
Example of use
○Using the polyurethane of the special blend. It does not become hard even Celsius -60 ℃.
○Civil engineering work at low temperatures, shoveling snow, suitable for winter work.
○Completely waterproof. Ideal for sea fishing and river fishing in the frigid land.
○Winter sports, active in the leisure and the like.

Civil engineering,Construction

Farm・gardening

Fisheries

Fishery

Snow・Ice
information
Ambient temperature

Low temperature
Normal temperature
High temperature

Material

Polyurethane

Primary use

Cold district work
Hot water and steam work

Category classification

Thermal

Material

Surface:Polyurethane
lining:Cotton100%
Inner:AcrylicCloth bore

type

-

size

L:280
XL:280
3L:300

The thickness

4.0㎜

Caliber

-

Surface shape

Particle

color

yellow

Price / double

¥6,000

Packaging

bag:1Phase
Inner box:10Phase
Outer case:10Phase×5box
Product dimension
| | | | | | | |
| --- | --- | --- | --- | --- | --- | --- |
| Size | A | B | C | D | E | F |
| L | 300 | 145 | 121 | 84 | 44 | 121 |
| XL | 300 | 151 | 120 | 83 | 42 | 130 |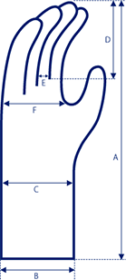 ■C is measuring the position of about 20cm from the middle finger destination.
■F shows around the palm of the hand.
■E the thickness of the fingers. Near the center of the finger.
■B, C, E, the dimensions of the F numerical was flattened to the site.
■may vary with the above dimensions for improvement.
■Unit (mm) Display
Notes on use
■ polyurethane is a good cold resistance, has different properties depending on the type. DAILOVE products are changing the type of polyurethane is for protection against the cold and for solvent resistance. It does not necessarily mean that there is a solvent resistance and cold resistance to all.
■ gloves body does not crack even -60 ℃ but not there is a cold performance.
■ there are individual differences in the way each heat. Discontinue use you feel hot.